The pear wood palettes.
My dear friends,  As most of you realize, I recommend trying to find the best equipment and supplies with which to practice the techniques of oil painting. For some of us, it's a profession. Practically speaking I have found that the better made tools of the trade seem to give better service. The cheaper stuff normally doesn't. For example, I have found that my kolinsky brushes wear at a different rate depending on what the palette I'm using is made from. Even those popular glass palettes on the market right now wear brushes out fast.
What's the best? The old masters swore by pear wood. Brushes wear out at 1/3 the rate on pear wood. It has tight pores, hence doesn't grab those fragile kolinsky hairs. Wonderful feel… but they're almost impossible to find. Then, not too long ago, I talked with an old friend who happens to be a master woodworker. He agreed to try to fabricate something for me. Recently, he presented me with my new pear wood palette. It's a joy to use…so lightweight; I can hold it comfortably for eight hours. Even my mind subconsciously feels more organized!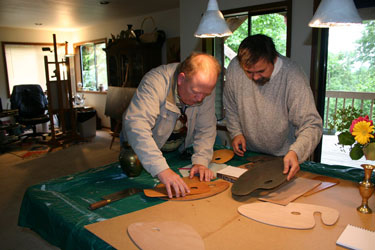 So I asked him if he would be willing to make a few more….
Folks, they aren't the cheapest, but they are worth the price. The pear wood is imported from Europe , each board chosen for its grain pattern and clarity, hand crafted and sanded, and finished with two coats of an old master's oil blend recipe which we refined. They're available at different shape of $95 shape B (14 1/4″ x 10 3/4″) and $75 shape C (14″x9″). And now shape D 7 1/2″x 6 1/2″ for $35.00 If you want real pear wood immediately,  you'd better hurry.
Although I love my full-size pearwood palette, there are times when I have to do intricate detail work (dewdrops on flower petals, my signature ants, etc.) and leaning in with a large palette often puts my back and arms in uncomfortable positions. After living with this for a very long time, I finally came up with a solution that allows me get real close to the canvas in complete comfort – my new "thumb" palette.
Video"thumb" palette

Special note:
These palettes MUST be cleaned after every session with turpentine or paint thinner. Remember, do not let your pear wood palette come into contact with any water or water-based products, like acrylics or quash.
Before every session wipe your pearwood pallette with a thin layer of linseed oil before adding the paint to the pallette.
Left-over paint can be stored on a separate piece of wood ar flat surface and stored overnight in the refrigerator. The cooler temperature in the fridge keeps the oils in the paint from drying out as quickly.